« Can Healing Energy Bring an End to the Recession? | Home
Museum of Love is Now Open for Visitors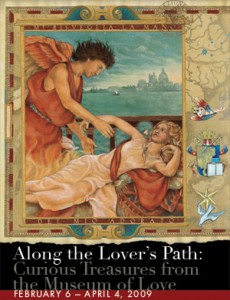 Just in time for Valentine's Day, Kris Waldherr's online Museum of Love is now open for visitors!
The Museo di Palazzo Filomela — aka "the Museum of Love" — is an Italian Renaissance museum of the imagination that appears in Waldherr's illustrated novel (and tarot deck) The Lover's Path.
The Museo has a home on the web where website visitors can read classic love stories, view paintings of historic lovers, send love letters, get free tarot readings, and purchase romantic gifts.
See you at the Museum of Love!