« "Not On Our Watch"- Worth Watching! | Home | TED! »
Stand Up for Our Furry Friends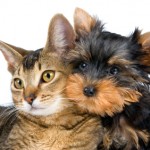 My connection with animals began at an early age — I was the little girl who befriended yard kittens, took in stray puppies and was your responsible neighborhood "Pet Sitter." As an adult, I have become an animal caretaker, activist and advocate, working with various animal organizations.
So, when I learned of this petition, it spoke to my humane inner beliefs. It proposes that animals be free from cruelty, neglect and abuse, with a right to adequate medical care. Furthermore, laboratory animals will not be used in cruel or unnecessary experiments.
Please read and sign the petition,  for our animal friends today!